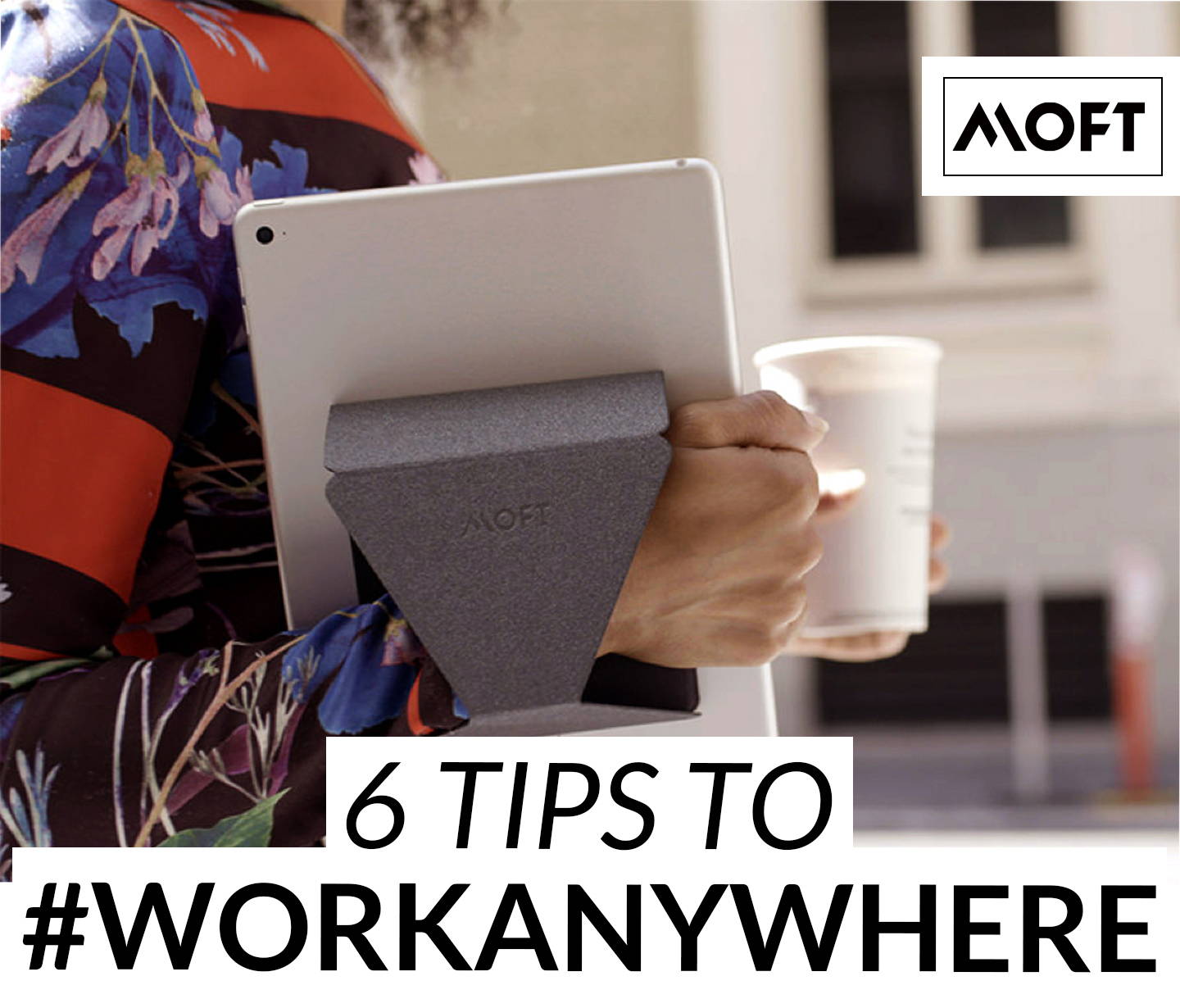 At MOFT, our mission is to simplify on-the-go productivity and give people the freedom to work how and where they want. We know that adjusting to a more flexible work style can sometimes feel overwhelming.
To help simplify the transition, we rounded up our 6 favorite tips to share with you. We are passionate about work-life balance and are excited to share what we've learned with you.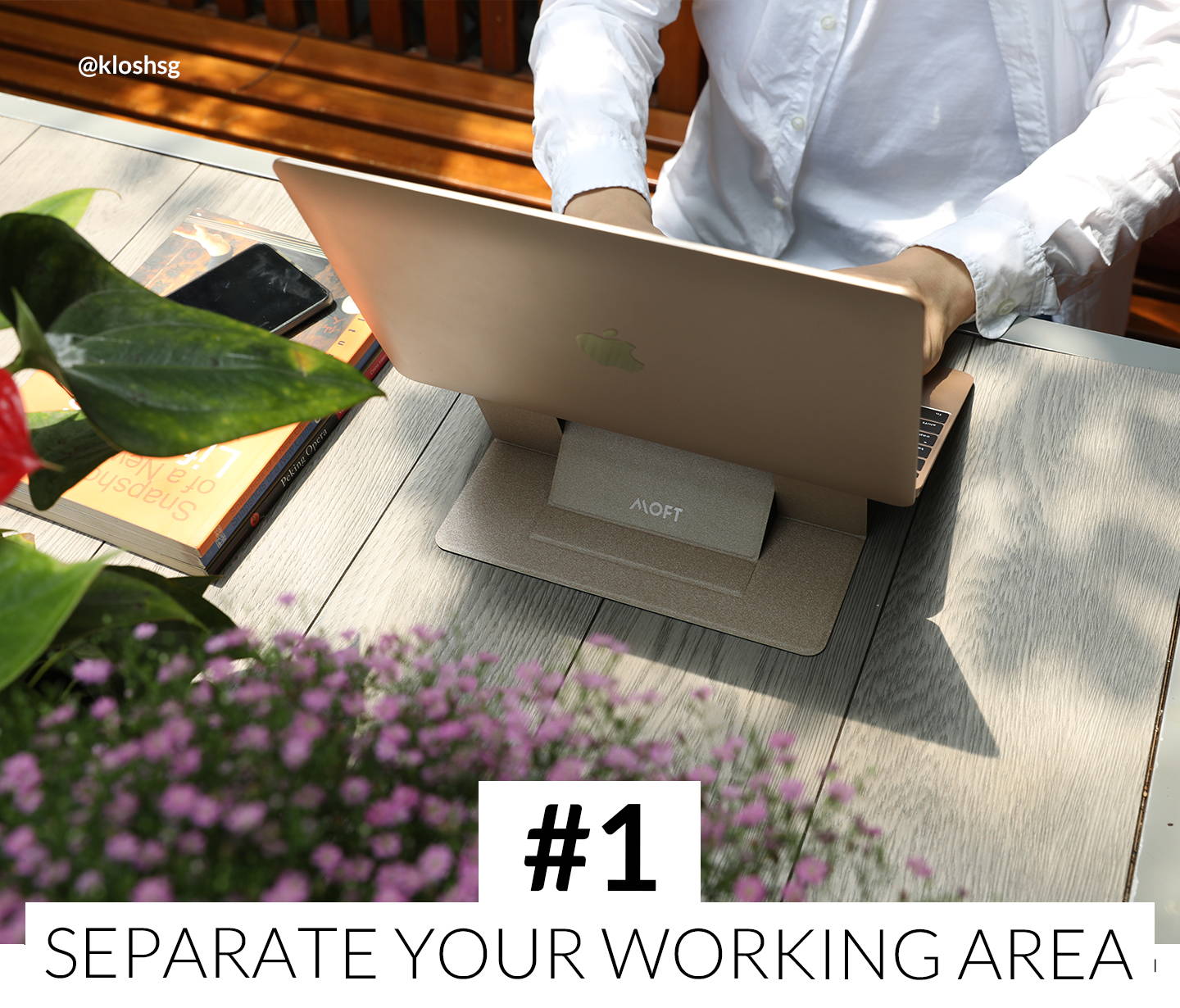 One of the biggest traps of working remotely is the lack of separation between home and work. If you're not careful to keep the two apart, you might find the lines starting to blur.
One easy way to avoid this is to create a separate workspace. This can be as simple as a desk in your living room to your local coffee shop to a mountaintop halfway around the world.
Also crucial for your working area: good WiFi connection and phone service. These are the primary ways your company will be in touch; a bad connection will taint your employer's trust in your level of reliability. If you're going to use hotel and coffee shop WiFi, be sure to have a back up plan in case that fails.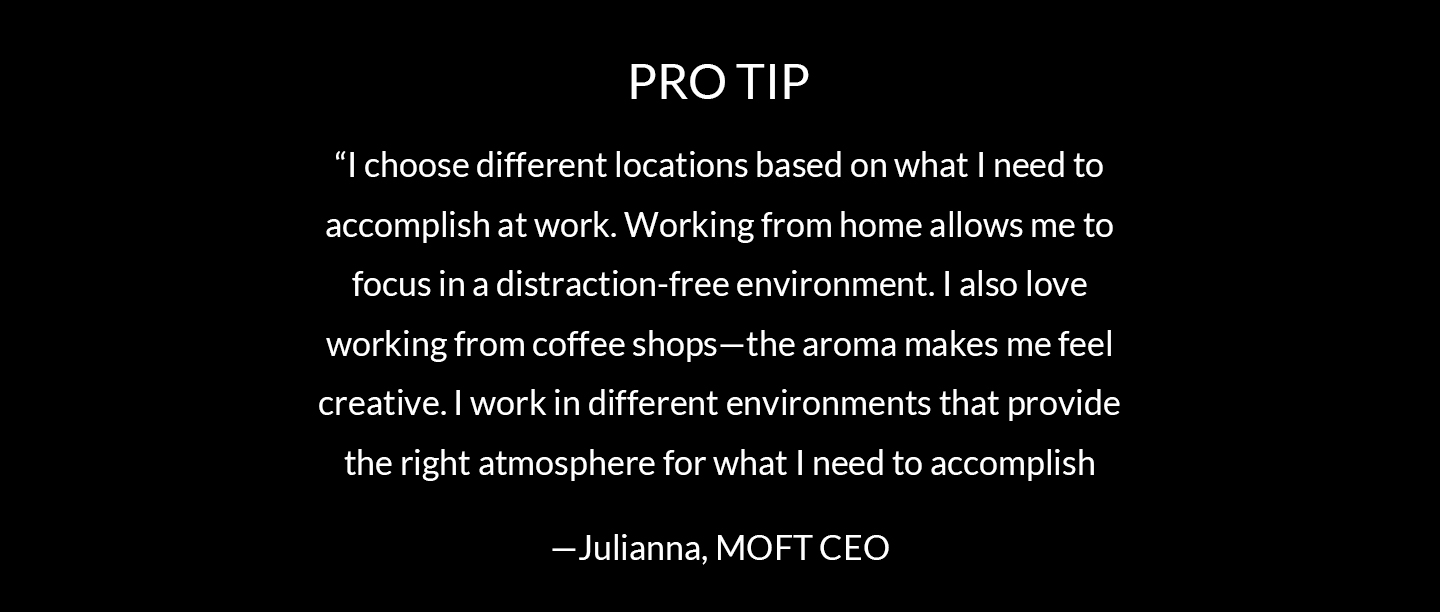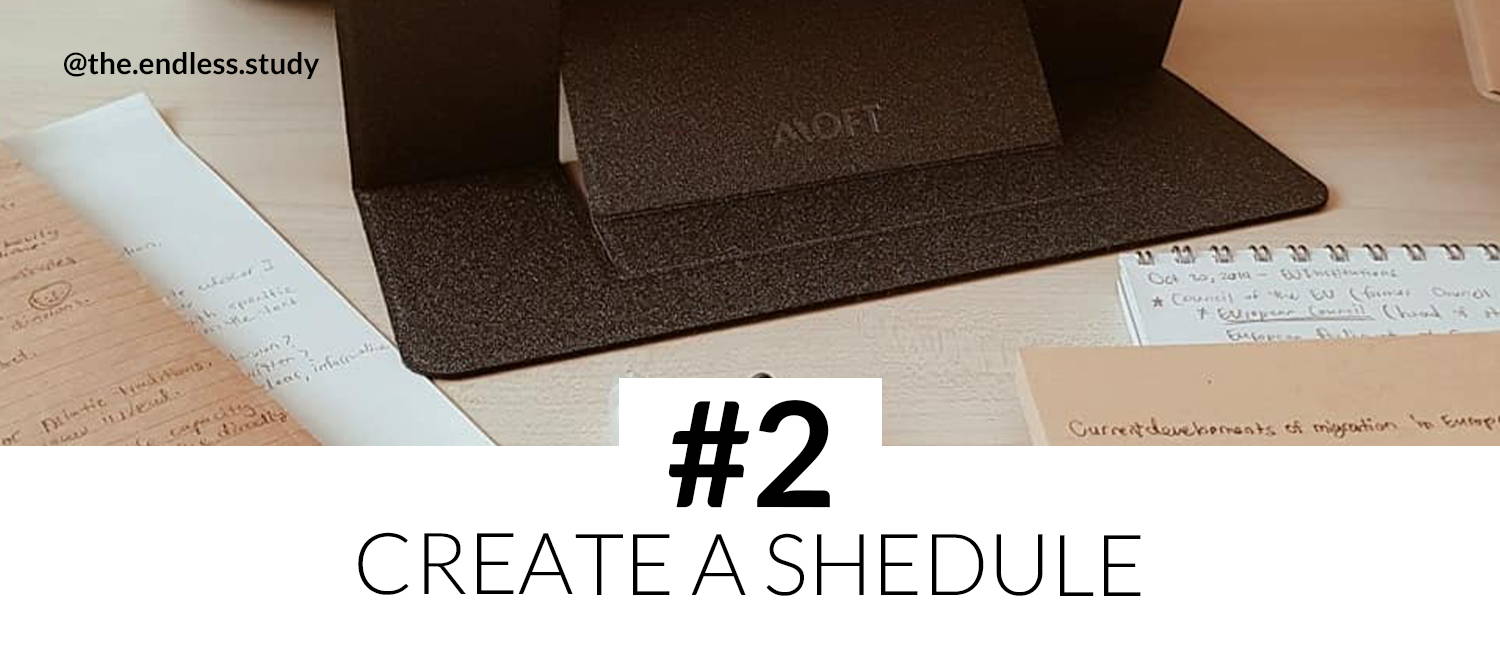 A hidden benefit of working in an office is the routine you get into. Don't let your newfound freedom throw you off your game. Creating a routine will help you start your day off right. You should still be setting a consistent time each day to wake up, get ready, and eat breakfast. This routine will help you prepare mentally to begin your work day and shake off the sleepiness.
One of the hardest things to do when it comes to remote work is establishing boundaries. The temptation to grab lunch with a friend or hang out with your dog during work hours is real. Be sure to communicate with people in your life what your working hours are and be firm that you cannot be bothered during those times.
This also goes for establishing boundaries with your company and your boss. Set a firm stop time for work every day and stick with it. Late night email replies will only hurt you in the long run when they begin to expect off-hour availability.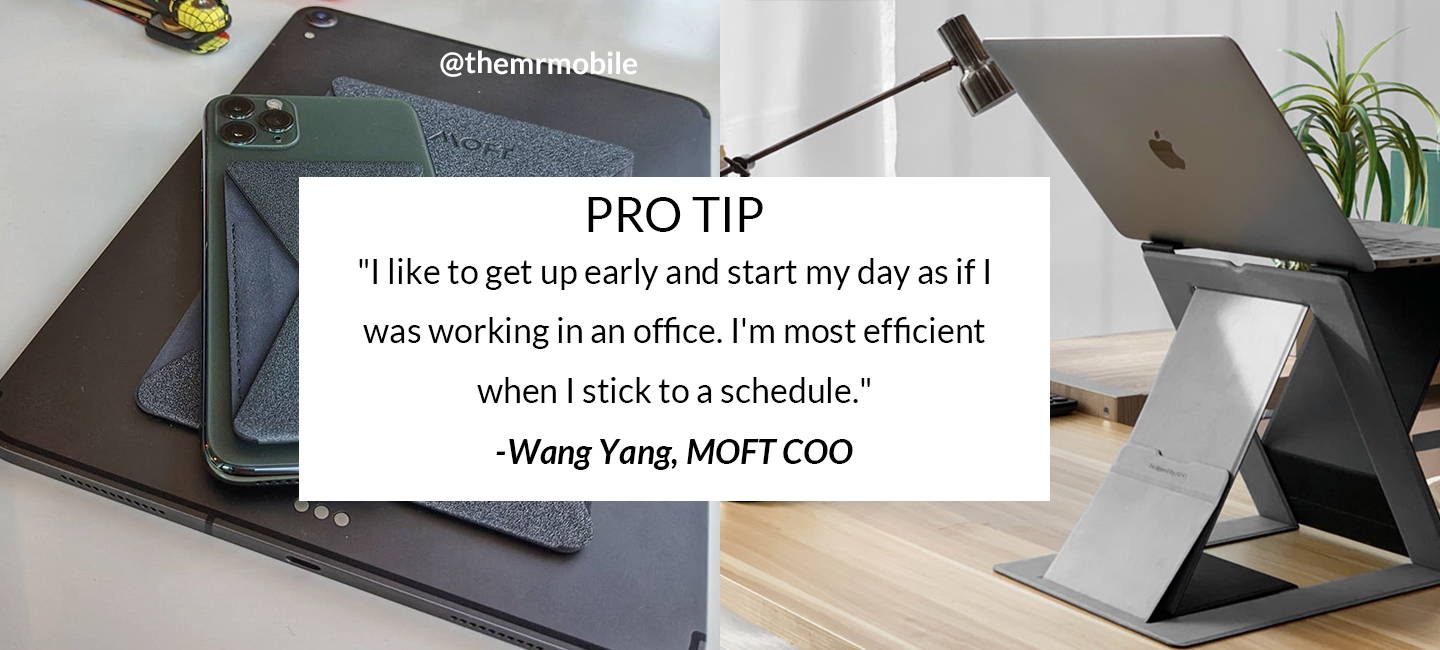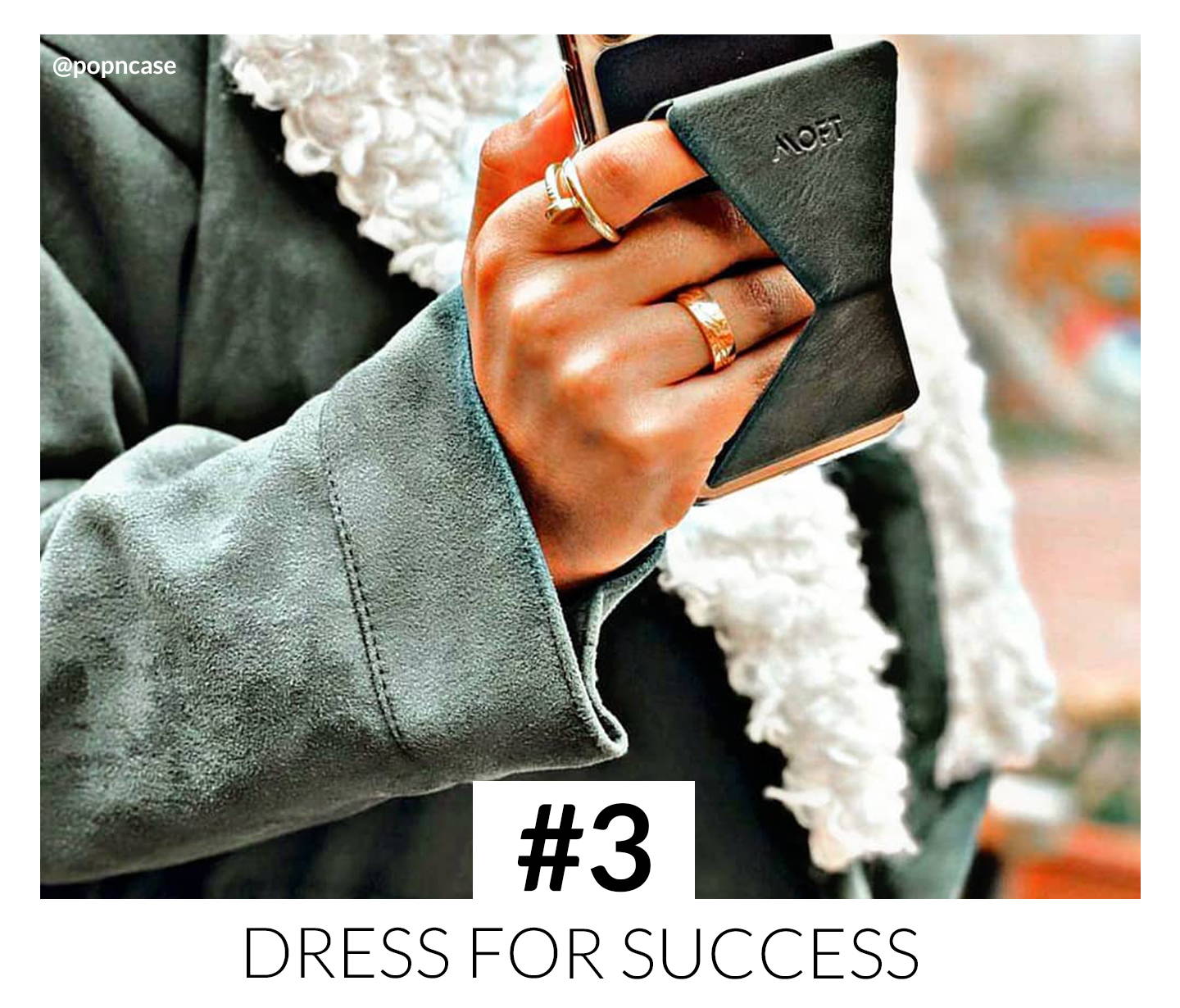 Working in your pajamas sounds like a dream come true, until you hit day 10 in sweatpants. There is a psychology behind dressing for success. When you look good, you feel good. The same can be said about dressing up for work. When you go through the motions of dressing up for work, you can help shift your mind into the right mode for getting work done.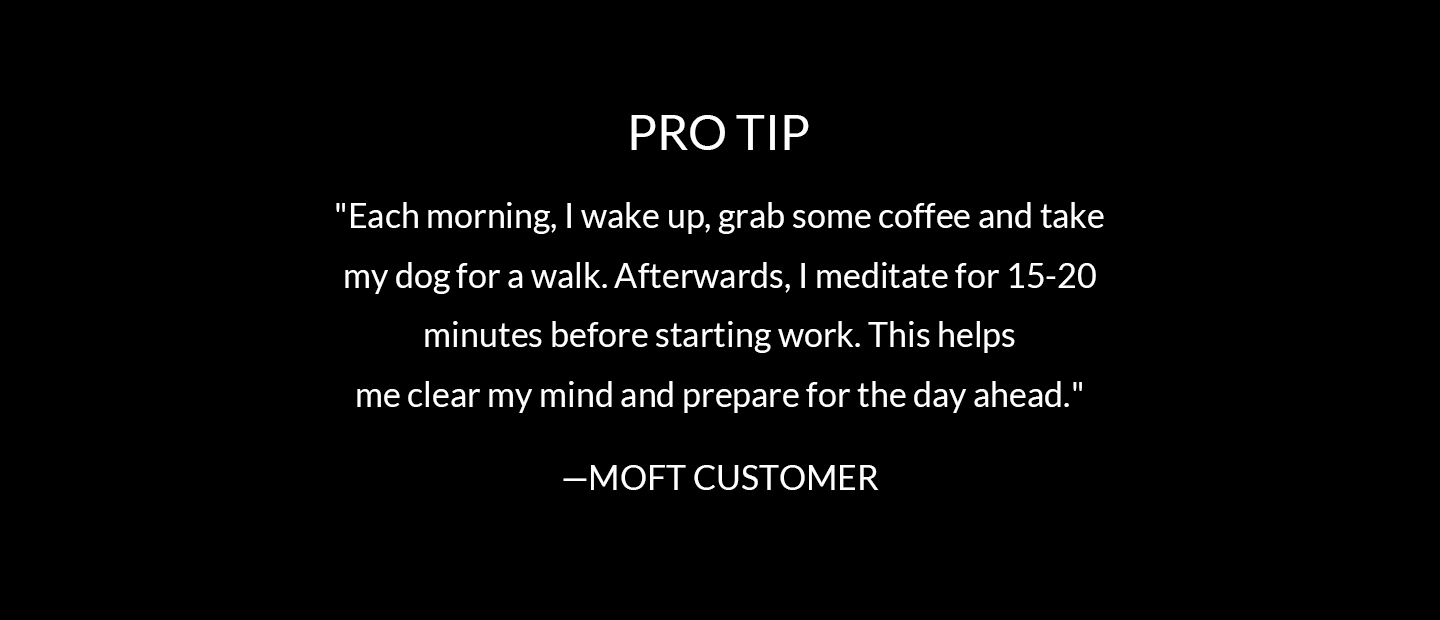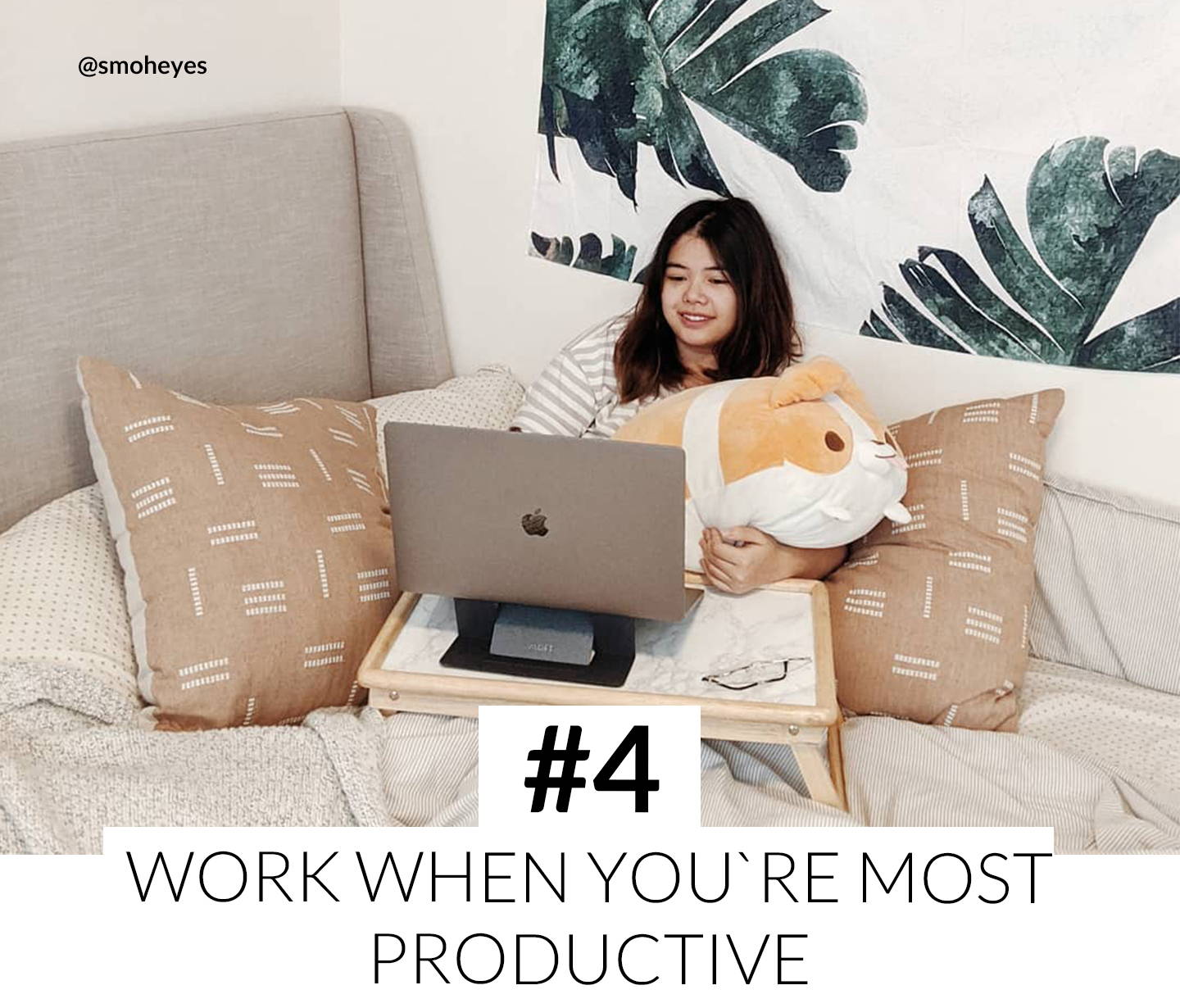 One secret benefit to working outside an office is that you're not bound by normal business hours. This gives you the opportunity to set your own working schedule for when you're most productive. Be strategic about your hours-If you know you're a morning person, start your work earlier in the morning when you're most productive. Need some time to wake up? Grab a cup of coffee, talk a walk or squeeze in a morning run to get your energy flowing.
Time blocking is a time management strategy you can use to help structure your day by blocking off large sections of time on your calendar each day for specific tasks.
Be sure to leave time on your calendar without anything scheduled. This leaves you time to take brain breaks, eat a snack, or go for a walk. You don't want to over-schedule yourself, but you do want to create a sense of structure where you can. It's all about balance.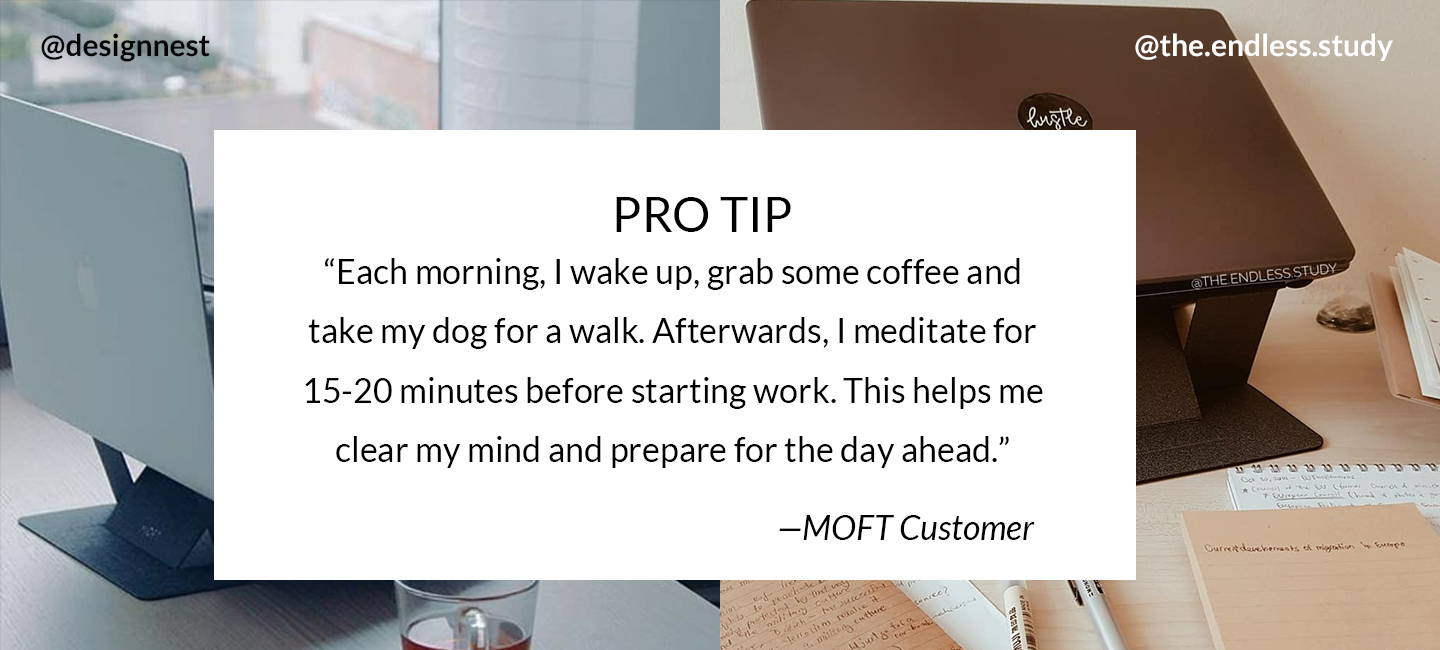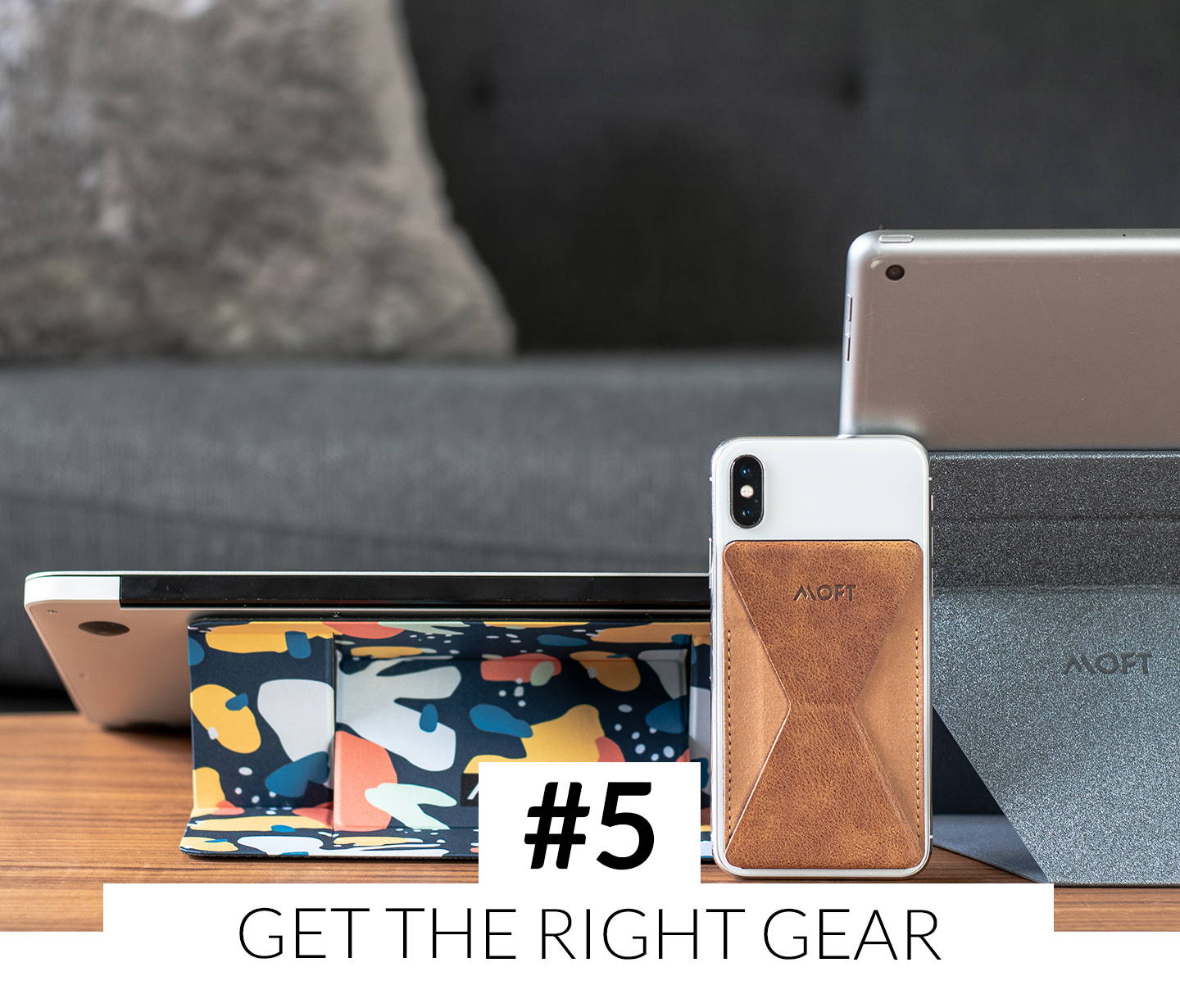 Remote work technology goes beyond a work laptop. One of the hidden roadblocks of working remotely is communication. You're physically removed from your coworkers and forced to rely on communication, file sharing and messaging tools. Fortunately, Cloud storage allows you to access your work from anywhere. Many cloud providers also include data encryption, collaboration tools, and storage across multiple files types.
Of course, we are never without our MOFT Invisible Office-no matter if it's utilizing our tablet stands for an impromptu video chat, positioning and holding our phones for that perfect shot, or breaking out our laptops right on our yoga mat to answer a few emails after our morning SunSalutations.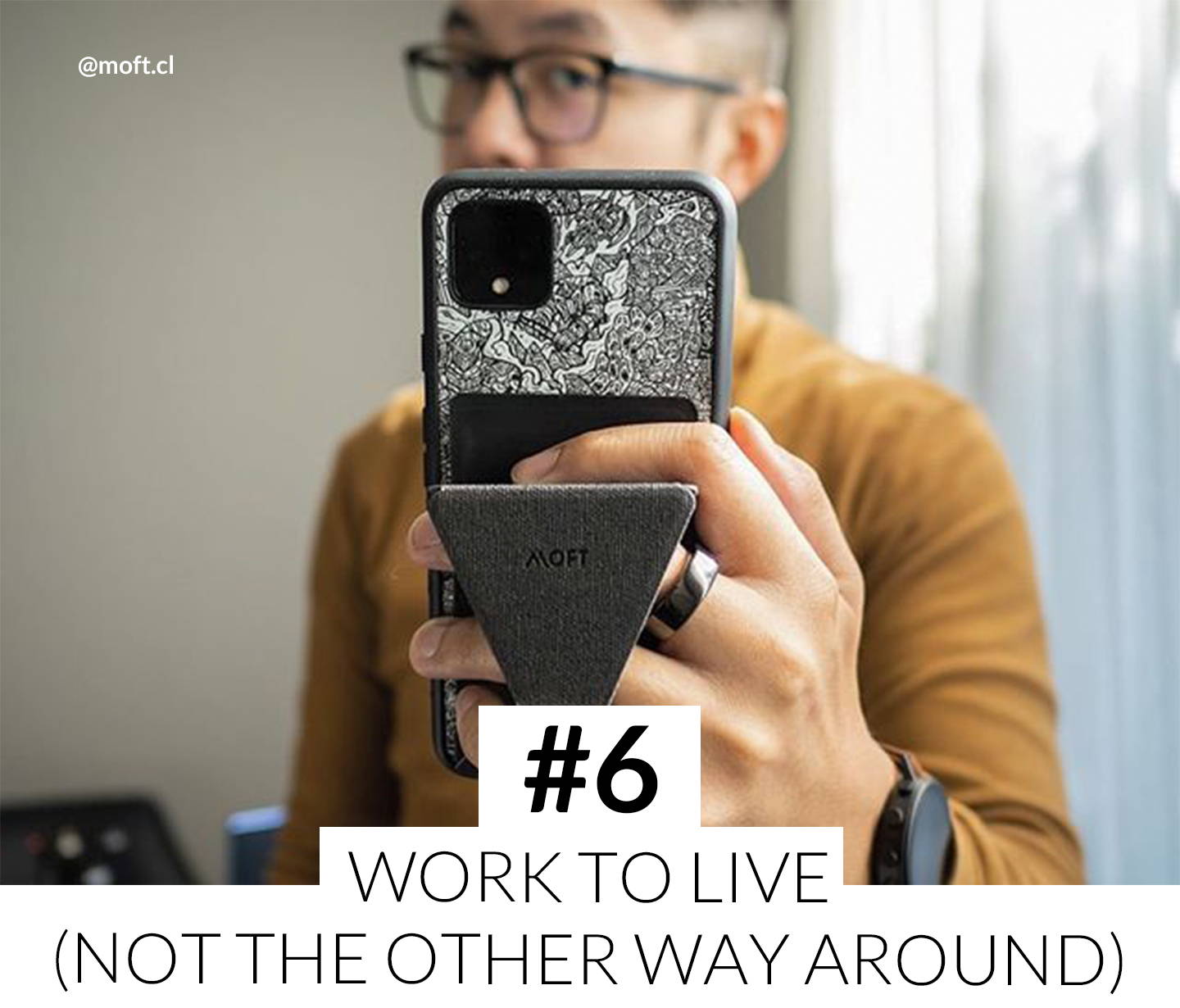 We believe work-life balance is for everyone. Study after study shows that remote workers are more productive and happier. Adopting this lifestyle takes balance, dedication and personalization.
MOFT will continue to create smart, functional products and accessories that work the way you do-anytime, anywhere, to give you the freedom to pursue your passions and maintain your productivity.

MOFT exists because of you. To be there when you live your life and work your way. Show us the life you live with MOFT and how you #WorkAnywhere.