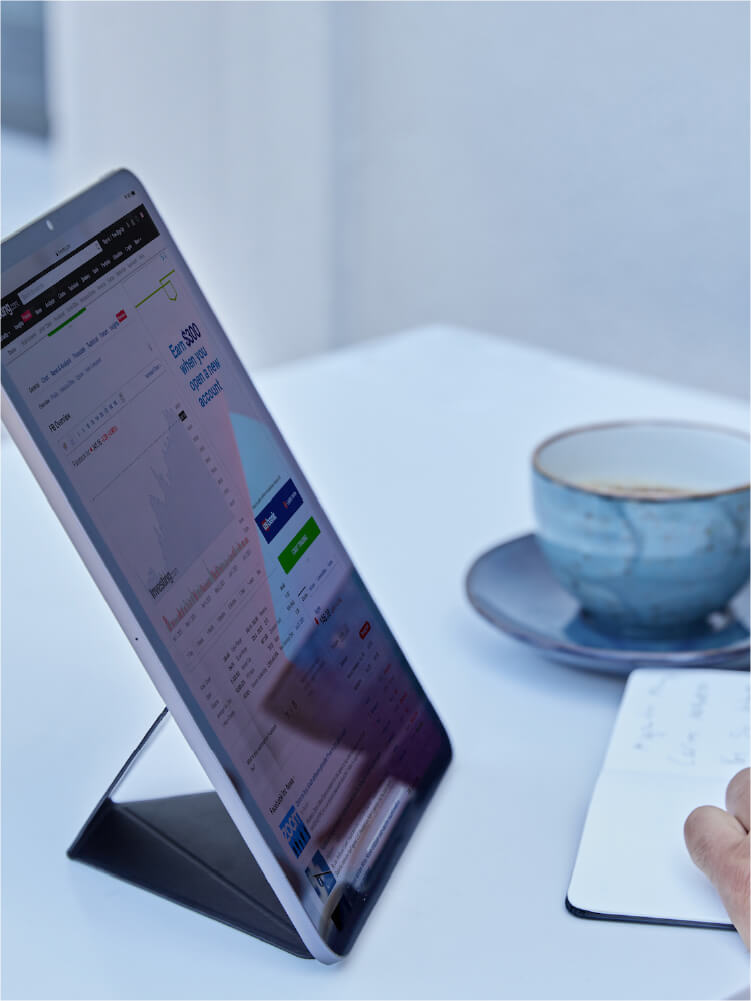 Unfelt, Unseen, Unnoticed
The Snap Tablet Stand has unparalleled slim design when folded flat. Rooted in MOFT's invisible design philosophy, its versatile viewing is unveiled with simple folds, enabling you to start creating or consuming content anywhere.
Adaptive To Magnetic Tools
Switch Anytime, Efficient Workflow
As the very first member in MOFT's Snap System for tablets, it snaps on & off the tablet via the Snap Tablet Sticker. After a frenzy of typing, take some time to e-read in a switch. You deserve it!
6 Viewing Modes In 2 Orientations
Create & Entertain As You Wish
Through engineered folding design, versatile viewing modes are easily accessed, making for a nimble companion on a daily basis.
Smooth Flow Between Work And Entertainment
Drawing
Streaming
Video Calling
Incredibly Thin When Folded
Takes Up No Space
The stand folds flat like a paper when not in use, turning into an invisible daily companion. Easily slip in a bookshelf or your everyday carry bag.
Leaves No Residue
Magic Snap Sticker for Universal Compatibility
It acts as an attachment point for the Snap Tablet Stand, allowing you to swiftly snap on and off whatever tablet you have.
​​
There will be a Snap Tablet Sticker along with the Snap Tablet Stand.
Compatibility: Tablets with a 9.7" screen or larger
Material: Vegan leather, Fiber Glass
Dimensions: 210*150*3.5 mm/8.3*5.9*0.14 in
Viewing Mode: 25°/40°/60° in portrait, 30°/40/60° in landscape
Dimensions of the Snap Sticker: 4.3*4.3*0.02 in / 110*110*0.5 mm
Weight (the stand): 5.5 oz/157 g
Weight (the stand with the sticker): 6.5 oz/185.9 g
US Standard Shipping: 5-10 business day delivery.
Shipping Email Notice: We will send you an email with the tracking number once your order has been shipped.
Global Standard Shipping: 8-15 business day delivery. Some countries in Middle East, Southeast Asia and Latin America might take up to 15-25 business days. For orders shipped to Canada, FedEx is recommended, because standard shipping is currently affected more by coronavirus.
DHL Shipping: DHL is experiencing parcel volumes surge due to coronavirus crisis. It might take 7-10 more days before the system shows your order arrives in the destination country.
What are the compatible models for the Snap Tablet Stand?
Compatible Models: iPad, iPad Air, iPad Pro, tablets with 9.7" screen or larger
Does it work with iPad Mini?
No, we're afraid that it doesn't work with iPad mini due to its size, but we've got an adhesive version 7.9" that works with iPad mini. Please feel free to check out the MOFT X Tablet Stand.
Can the sticker stick behind a tablet case?
Yes, it can stick behind a tablet case that is a non-rubber coated case. FYI, it doesn't adhere to silicone cases because they're rubber coated.
Can it be used with iPad Pro 12.9"?
When it's used with iPad Pro 12.9", it's recommended attaching the Stand centrally to the ipad. Additionally, we're developing a larger version exclusive for iPad Pro 12.9", and it will be available in a few months. Stay tuned.