Ergonomic:
We've all seen those HR-mandated workplace ergonomics posters exhorting us to think of posture in terms of 90 degree bends—your elbows, your knees, and ankles should all conform to perpendicular bends for maximum comfort. But the next time you see one of those, pay close attention to the computer shown—it most likely shows an old, desk-bound desktop computer.
That's the main sacrifice we make in order to be on-the-go. We find ourselves hunched over, craning our necks towards our laptops which are, well, on our laps, when the screen should ideally match our eye level if we're sitting up and looking straight ahead.
At the start of the pandemic, sales for laptop stands shot up as workers invested in sleek, robust laptop stands that propped their laptop screens up to the right height—but most of us would be loathe to lug around a boxy, rigid stand on our travels.
MOFT's Laptop Stand attaches to the base of your laptop, and at 3/64th of an inch thick (or 3mm, for the rest of the world), you'll hardly notice it's there.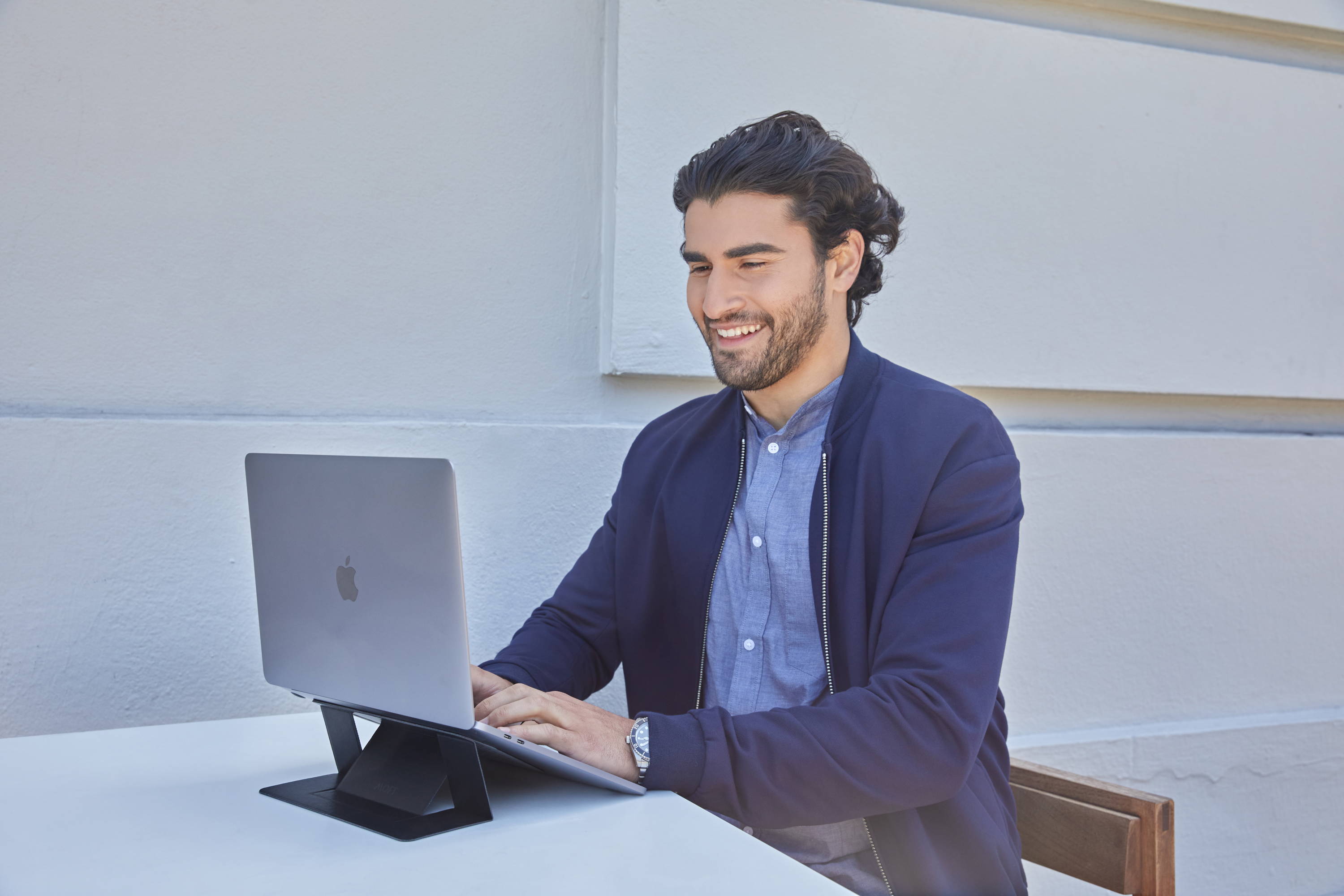 ---
But, as one of our contributors noticed on his recent hybrid work/play trip to Boston, it quickly transforms into a strong, portable laptop stand that turned a 4-hour Amtrak ride into a liberating space for deep work, while propping up the keyboard at a comfortable 15 degree angle.
Barely there, so you can be 100% here
Today's digital nomads are multi-talented, have wide-varying interests, and have the gear to match. Whatever we're carrying for work is also jockeying for space with photography equipment, a change of clothes for the gym, and maybe a bottle of wine to accompany dinner.
Whatever you're adding to your weekend duffel bag, it should be sleek, invisible, and barely there, so that it doesn't interfere with or get in the way of your other interests and activities. It should also look and feel premium—the digital nomad's gear is meant to be used and tested while not making us look out of place in an upscale café.
Consider this principle whether you're purchasing a mouse, travel power adaptor or a laptop stand. All of these items should stow away easily into your bag without being intrusive, while remaining ready whenever you are for a session of deep, productive work on-the-go.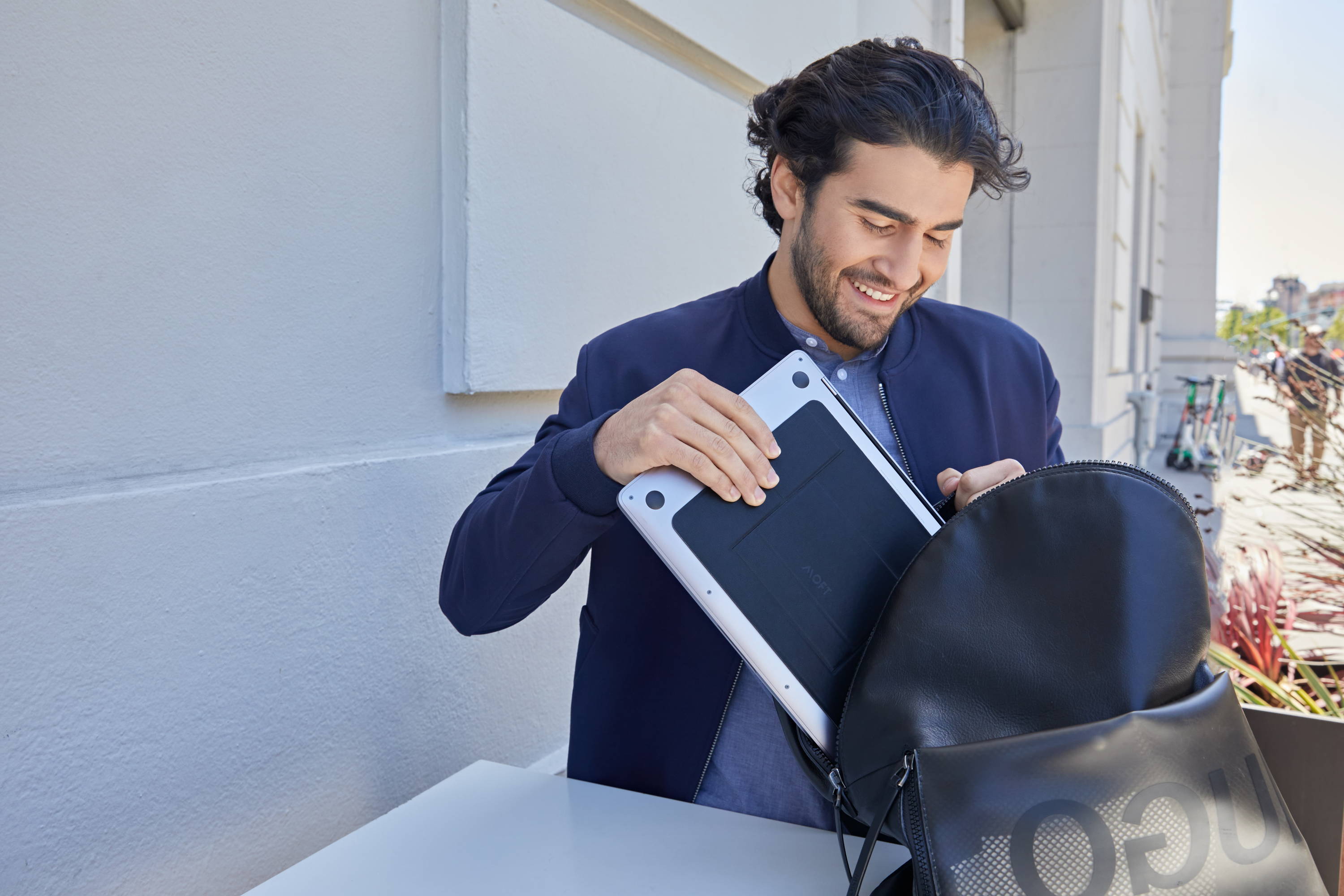 Modular and multi-functional
Kitchenware both scares and endlessly fascinates us at MOFT. Consider the Avocado Slicer—a beautiful, albeit single-purpose tool that's great at slicing up avocados for your salad, but not for much else. We use a knife in our pantry instead. While mono-functional tools have their place in a kitchen, the limited space in our travel carry precludes their use.
Select modular or multi-functional pieces of tech that can evolve to fit your current needs, or cover a wide variety of use cases.
The MagSafe-compatible Snap-On Phone Stand series is a great example of a product that does both.
It's modular (it snaps onto your phone when you need a stand) and also multi-use—we've seen users in our Facebook Community (join here)—use them on their own as simple three-cards-and-a-twenty-dollar-bill money clips.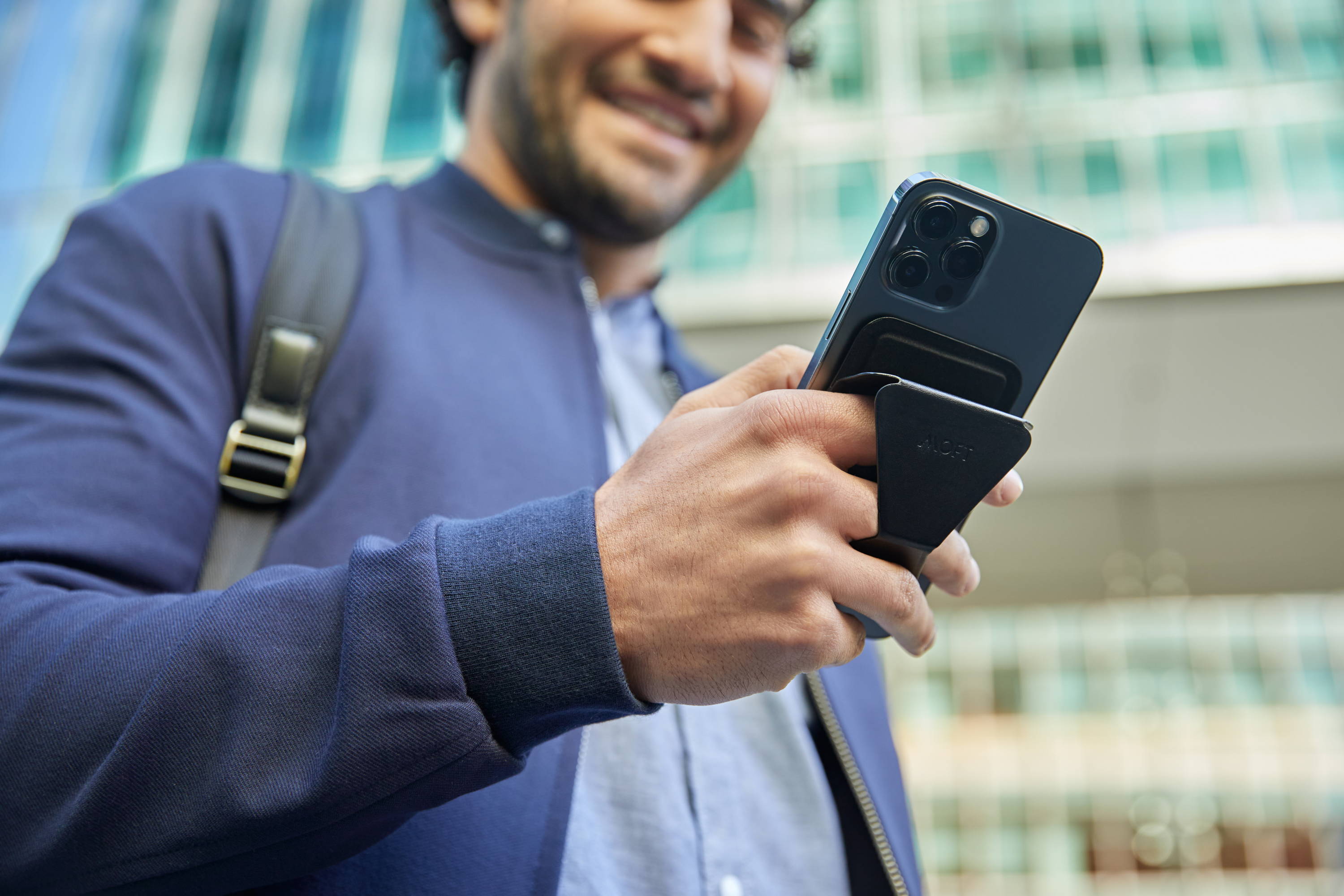 ---
Your WF-everywhere setup
Many of us at MOFT HQ have dual screen setups both at home and in the office, allowing us to display the information we need in order to be our most productive. Whether you're cranking out a few emails at an airport lounge, or in a cabana along a black sand beach in St Kitts, you can easily replicate that setup for maximum productivity.
macOS's Sidecar feature allows you to pair any iPad with a MacBook, transforming it into a second screen with a—get this—wireless connection.
Of course, no second screen is useful while laid out flat on a table, so pair your iPad with a removable (see above point about being barely there) MOFT's Snap Tablet Stand, and have its screen show you reference material while you power through work on your laptop.
The pandemic and subsequent reopening has redefined work for many of us. For those of us who have embraced and experimented with digital nomadism during this time, the items we select for our daily carry and use have grown in importance as we seek productivity outside of traditionally defined workspaces. How has what you carry changed over the past year?