Slim Yet Flexible For Your Enjoyable Home Office
For those who work remotely a lot, it's time to bid farewell to your back pain with the magazine-sized Sit-stand Desk to lift your body and laptop. To include an upright phone supported by the Snap-on Phone Stand & Wallet, your home doubles as an office right away.
PAPER-THIN STRUCTURE
Red Dot Design Awarded Design
MOFT Z' s ultra-versatile yet paper-thin desk body makes it friendly to any working environment, not only to be used in the office but also at home or co-workspace.
Transform to Adapt to Your Working Needs
HOLDS UP TO 22 LBS, BUT LIGHTWEIGHT
Rocky-steady Beyond Your Expectation
We didn't trade thinness for durability. Apart from the rock-steady Z structure and triangular bottom support, we used the fiberglass to ensure the toughness of the panels to up to 22 lbs.
Dual-angle adjustment
It's a Wallet, Holder and Stand
Building on the breakthrough innovation of the popular MOFT X classic phone stand, the new MOFT Snap-On employs dual magnets to attach securely to iPhone 12 series and beyond. The fold-design allows for intuitive and flexible usage - simply snap it on, stand it up and fold it back into place. A powerful new assistant in your digital life.
Comfort in 3 Angles
Browsing
Streaming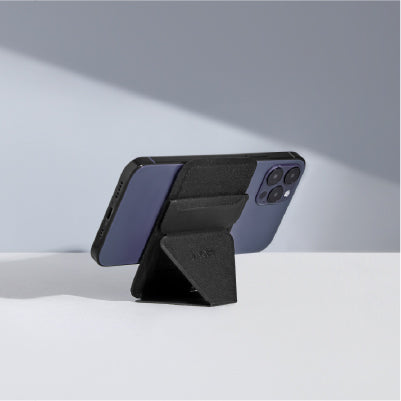 Video conferencing
[Specifications of the Sit-Stand Desk]
Dimensions:9.4"11"0.5 in/23.8*27.9*1.3 cm
Weight:30 oz/850 g
Material: Vegan leather, Fiberglass, Magnets, Metal sheets
Height in use (when standing): 10 in/25 cm
Thiness (when folded): 0.5 in/1.3 cm
[Specifications of the Snap-on Phone Stand & Wallet]
Dimensions of the stands in Windy Blue/Classic Nude:: 3.8*2.5*0.24 in/95.5*64.5*6 mm
Weight of the stands in Windy Blue/Classic Nude: 1.5 oz/42.5 g
Dimensions off the stands in Night Black/Sienna Brown/Wanderlust Blue/Cool Gray: 3.9*2.5*0.2 in/98*64*5 mm
Weight of the stands in Night Black/Sienna Brown/Wanderlust Blue/Cool Gray: 1.4 oz/40 g
Material: Vegan leather, Fiberglass, Magnets, Metal sheets
3 viewing modes: Portrait, Landscape, and Floating
Double-side magnet: 16 built-in magnets in total
Holds up to 3 cards
Works with MagSafe compatible accessories
US Standard Shipping: 5-10 business day delivery.
Shipping Email Notice: We will send you an email with the tracking number once your order has been shipped.
Global Standard Shipping: 8-15 business day delivery. Some countries in Middle East, Southeast Asia and Latin America might take up to 15-25 business days. For orders shipped to Canada, FedEx is recommended, because standard shipping is currently affected more by coronavirus.
DHL Shipping: DHL is experiencing parcel volumes surge due to coronavirus crisis. It might take 7-10 more days before the system shows your order arrives in the destination country.
[Sit-Stand Desk]]

What are the heights of Sit-Stand Desk Desk in different sitting modes?
At 25°, the stand is 12cm/4.7in high.

At 45°, the stand is 19.4cm/7.6in high.

At 45°, the stand is 19.4cm/7.6in high.

What devices are compatible with Sit-Stand Desk Desk?
It's compatible with almost all kinds of laptops, tablets, even books, and papers.
What is Sit-Stand Desk made of?
It's made of vegan leather, fiber glass, magnets and metal sheets.
[Snap-on Phone Stand & Wallet]

What iPhone models are compatible?
All iPhone 12/13 series including: iPhone 12/13 mini, iPhone 12/13, iPhone 12/13 Pro and iPhone 12/13 Pro Max. For iPhone 12/13 mini, floating mode is recommended.
MOFT X Phone Stand Adhesive Series is compatible with older iPhone models.
Will it work if I have a case on my phone?
Yes! It works with Apple's MagSafe cases, and the magnet strength will be 2x stronger with our Snap Case, as their magnet layouts are consistent (a ring of magnets and a longitudinal magnet). For third-party MagSafe compatible cases, only cases that have built-in magnets will work.
Does it work with the iPhone 12/13 mini?
Yes! It also works with the iPhone 12/13 mini, but the screen will be just about vertical in landscape mode, because the phone is almost as wide as the stand. It works smoothly in portrait and floating mode which can be used to create a mini workstation on short notice.
Does it support Find My?
No, it doesn't support Find My. We will take it into account for the next version, but it will depend on the openness of Apple's Find My system.
Compared with Apple's wallet, how's the magnet strength?
The magnet strength feels the same as Apple's wallet, because we use similar magnet design to match the iPhone 12/13 series. You will need force to remove the wallet, and it doesn't fall easily. Still, we recommend not to use it as a grip while on a call. If you prefer the wallet to stay stuck on the back of the phone where you can't use force to remove it, please feel free to check out the Adhesive Version.
The magnet strength feels the most secure when the wallet is aligned properly with the phone, as the ring-shaped magnet is placed to the center of the phone's rear.
If it's used with an Apple's MagSafe case, it will be even stronger, and the orientation magnet of the case will help to guide the placement of the wallet.
Please be aware of how to carefully put it in your pocket, as there's a chance the wallet will fall out when it's put in or taken out of a pocket, depending on how tight the pocket is.
For more information, please feel free to click HERE to check the magnet review by Jonel T.
Can it be used as a grip?
Sure. It's secure to hold and view the screen for a comfortable browsing experience, but it will not be as secure as the MOFT X adhesive phone stand, so it's suggested that you should not shake it to avoid the risk that the phone will come off from the wallet.
Can the wireless charging feature be used with this?
Detachment is easy, so you can remove it to use wireless charging and then attach it to the wireless charger pad for non-stop enjoyment.
What is the difference from MOFT adhesive wallet stand?
Removable glue is replaced by the strong built-in magnets that allow it to magnetically attach to the back of the iPhone.
The width remains the same, but it's vertically shorter than MOFT X and longer than MOFT X Compact version. It's 0.5mm thicker and 10g heavier than MOFT X because of the magnet inside.
Does it have RFID-blocking technology?
No, it's not RFID-blocking.
Will the magnet affect credit cards?
No, it won't affect chip cards like credit cards, but there's a chance that magnetic strip cards like ID cards may be affected. Strong magnetic environments will have an impact on the magnetic strip cards. Although the magnet of the Stand & Wallet is not strong, it could cause interference to some magnetic strip cards.
Does it affect Apple Pay usage?
Apple Pay works normally.
Can Magnetic Sticky Pads be used with the phone without the Stand & Wallet?
No, we're afraid that Magnetic Sticky Pads won't work with iPhone 12 series without the Stand & Wallet attached to it.
For more details or to order more sticky pads, please click HERE to check it out.
Can I attach my phone to the wall?
The magnetic design matches the magnetic design of iPhone 12/13 series, so it can stick on the back of the phone using magnetic strength.
Additionally, the double-sided magnetic design allows you to attach your phone anywhere with a Magnetic Sticky Pad on the surface.
Will the angle on different iPhone 12/13 models change when propped up?
The angle varies on different iPhone 12/13 models due to different sizes of the phones.