Adhesive Tablet Stand
🎄Holiday Cheer: Buy any 2 and Get 15% Off | Use code [ MX15 ] at checkout.
The slimmest and most adjustable tablet holder ever. (Adhesive never to be forgotten on the go.)

At 0.1 in thin, 3/4 oz weight. 
25°/40°/60° in portrait mode and 30°/40°/60° in landscape mode for ideal posture to create and relax. 
Constructed with vegan leather and strong fiberglass.
Residue-free adhesive.
Compatible Model (Standard): 9.7" or larger tablets
Compatible Model (Mini): 7.9"-9.7" tablets
Shipping Note: For iPad Mini - Light Pink ONLY available in the US

Adhesive Tablet Stand
$24.99
For iPad Mini - Cool Gray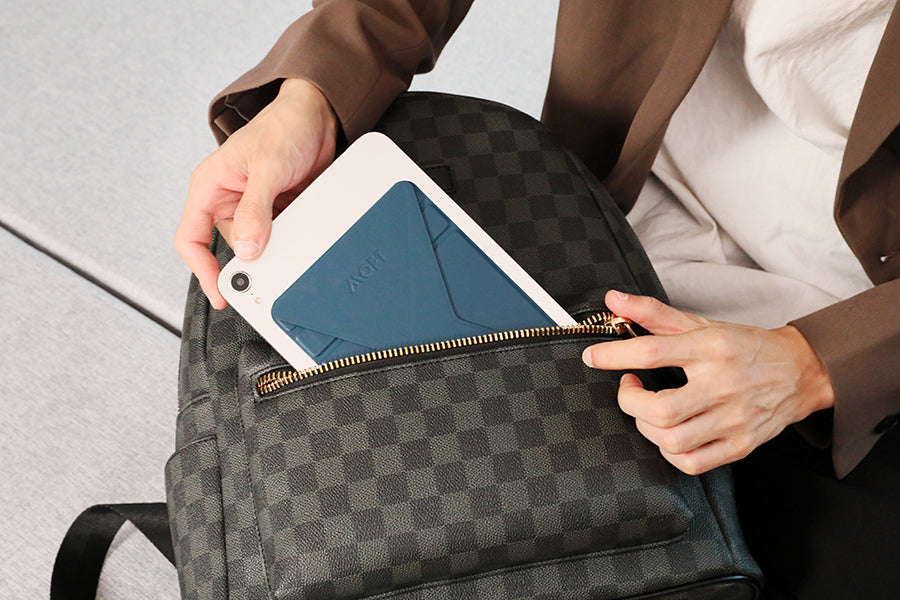 Remarkably Slim, Easily Adjustable
The Most Portable, Versatile Tablet Stand
Tablets are only one-step away from being a comfortable entertainment tool or a 2nd screen for work - the right angle, and the Invisible Tablet Stand hits the mark without taking up space, following our consistent invisible philosophy.
25°/40°/60° IN PORTRAIT
Read & View Strain-free
Portrait mode is usually for web-browsing, reading, pen work, and video chatting. It makes sure you complete the tasks in most postures, most distances, and the most comfortable way.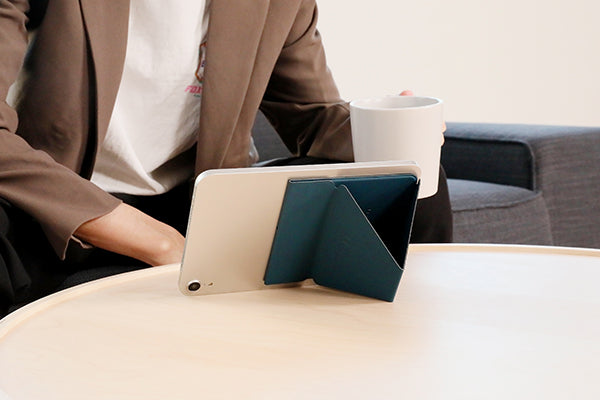 30°/40°/60° IN LANDSCAPE
Create & Entertain As You Wish
Landscape mode works best with media contents: videos, games, art creations, etcs. it keeps all the contents crispy to your eyes, and all the drawings smooth to your hands.
6 Angles In 2 Orientations
Leveled Up Comfort Through Daily Routine

Intuitive browsing

Smooth writing

Easy to hold
FAST MESSAGE-COMMUNICATING
Tilt & Share Right Away
We also came up with an idea of tik-tok mode, which enables 1-second instant message sharing between two or more colleagues/family members/friends.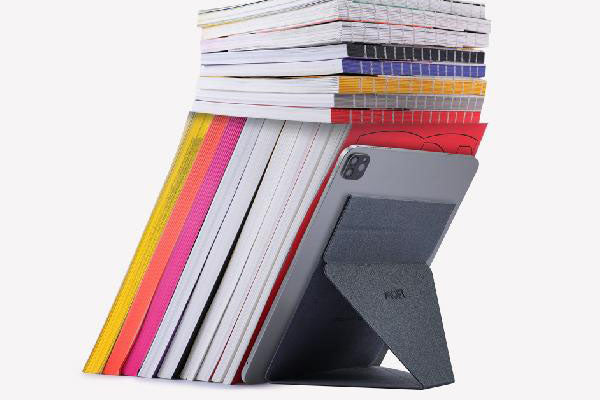 VIRTUALLY INDESTRUCTIBLE
Slim but Powerful
Engineered to last, the heavy duty construction of the stand is designed to take your work seriously.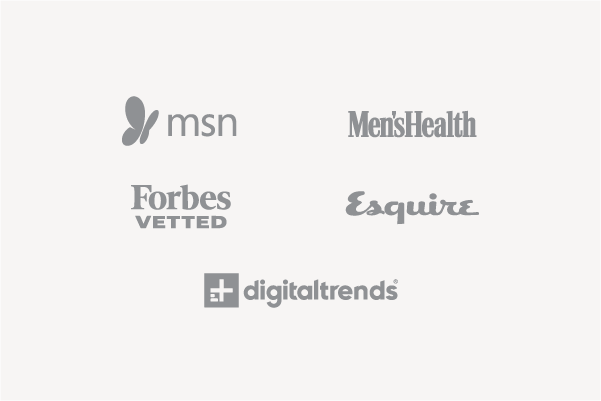 Featured In
"Moft's Invisible Stand balances minimalism with functionality and won a 2020 IFA award for Best Design. When unfolded, it functions as a kickstand as well as a hand grip so you never drop your tablet when handheld." - Digital Trends
great product but have flaws
overall it is a great product, nothing to complain.
flaw is that edges are breaking apart (around a year of usage) => trying to support with electrical tape LOL
iPad 12.9 review
Writing this review as I was unsure about whether the stand would fit prior to it arriving. It works well, I used double sided tape to work out where to stick the sticker first. Decided to have it as per photos. This gives best angles and stability. Definitely worth getting for the iPad Po 12.9 in my opinion. The only case on the market that really doesn't add bulk but is fully functional with an external keyboard as your main input and creating a good height for portrait pen work.