Snap Phone Grip & Stand - MagSafe Compatible
🎄Holiday Cheer: Buy any 2 and Get 15% Off | Use code [ MX15 ] at checkout.
Smooth phone grip & stand for effortless creation. (Magnetic to switch with other accessories.)
At 0.25 in thin, pocket-friendly.
Comfortable handgrip.
45° and 90° in landscape, 45° in portrait.
Compatibility


iPhone 12/13/14/15 series

(iPhone 12/13/14/15, iPhone 14/15 Plus, iPhone 12/13/14/15 Pro, iPhone 12/13/14/15 Pro Max) and MagSafe compatible phone cases.
Universal to all phones with the Magnetic Ring (Sold separately).
Shipping Note: Wanderlust Blue only available for US Shipping.

Snap Phone Grip & Stand - MagSafe Compatible
$29.99
Wanderlust Blue / For iPhone 15/14/13/12 / Without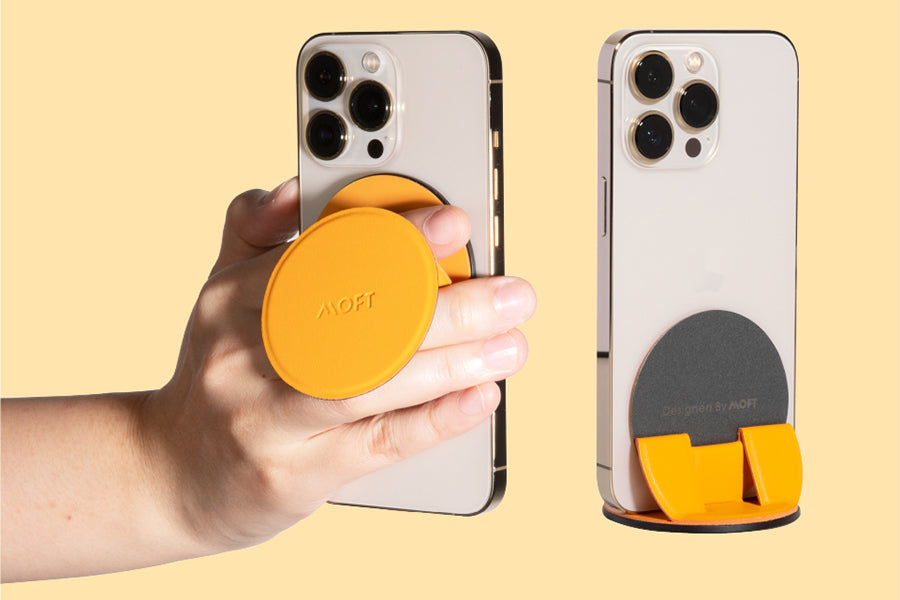 Grip. Rotate. Prop
Snap Phone Grip & Stand MagSafe Enhanced Version
Secure Grip, Capture the Best Moments
Having a creation studio on you is a snap. The Snap Grip & Stand, a magnetic compact disc, flips out to be a secure holding or stand, making the simple creation in everyday life easier.
2.4X STRONGER MAGNETIC STRENGTH
Grip It, Take That Long Shot
With its enhanced magnetic force, it's perfect for gripping large phones over 6" like iPhone 13 pro max. Film a concert or take selfies with it, no more fear of accidental drops.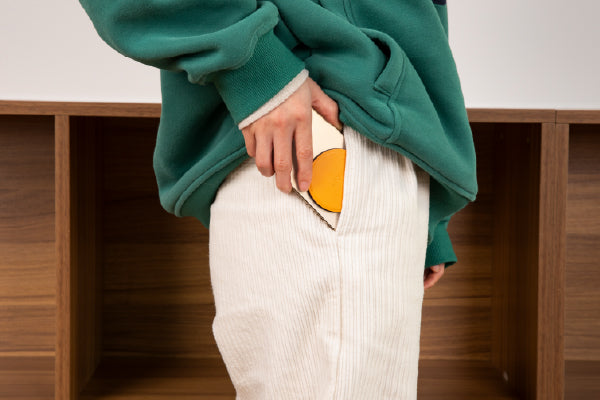 POCKET-FRIENDLY
Adds Anything But Bulkiness
Rooted in MOFT's invisible design philosophy, it folds flat in your phone pocket. To capture a moment in photography on the road, slip it out right before the moment fleets.
SANDWICH STRUCTURE & VEGAN LEATHER MATERIAL
Effortless Holding, Nonstop Enjoyment
Flip it, slip your fingers through it, then your hand is relaxing with a soft textured feeling. Swipe through those pictures, read that long blog without need for an interval
DOUBLES AS A VERSATILE STAND
Next-level Viewing on Desk, Airplanes, Anywhere

Video Watching

Live Streaming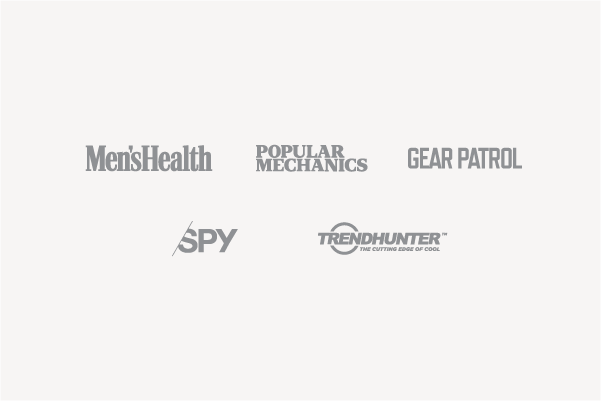 Featured In
"Accessory maker Moft, who realized those accessories are one-dimensional in function, has created a new MagSafe accessory that looks to do more." - Spy
Not Bad
Unfortunately there's slim pickings on the market right now for a good phone stand/strap type device that's minimalistic yet functional.
Moft fulfills both of these needs, and it's nice that they offer such variety. Bonus points for being magnetic and removable; I haven't had any problems using my wireless charger once I remove the magnetic leather stand. This is not a downside for my use but do note that you won't be able to stick your phone to a ferrous-metal surface as advertised, the magnet simply isn't strong enough (I use a Samsung S22 non-plus)
I unfortunately do need to remove a star because the leather is already cracked where the leather stand bends. This seems to be an issue with design rather than quality of material and as I've said, Moft is one of the few good options for minimalistic get functional stands so you'll have to live with this flaw if those are the two selling points for you. Overall I am happy with it. There's room for improvement, but in the current state of the market, this is probably the best you can get.
Awesome versatile addition to the MoFT products
So MoFT has updated the version of this recently where they've put a stronger magnet on the kickstand. After that it is absolutely amazing and works great. I have a pixel 6 with the OtterBox case and the snap phone sticker applied on the case.
Even better is that now, I don't need to take off the snap on stand when Im driving, it just sticks to my magnet phone holder!!...how awesome is that.
I did have an issue with the earlier version of this though but the customer service was pretty good and resolved the issue pretty quickly.
Great Little Product!
This is another well thought out and multifunction product from MOFT that just think of everything.
Firstly you forget its on your phone its so compact however when it comes to needing to angle your phone for video calls or watching videos this can offer different viewing angles and orientations.
What I love is using it as a phone 'grip' which stops you dropping your phone while on the go.
Offers great magnetic strength which is only further increased if you opt for a MOFT phone case.