MAKE IT PERSONAL
Monogram it for yourself for a unique personalized accessory or to celebrate a special person in your life as a meaningful everyday reminder of how much you appreciate them. Our debossing technique is hand-stamped with love for an elegant neutral palette or the choice of 3 color foil options. 
SLIM AND MIGHTY
Wallet, Stand, and Grip
The MOFT Snap-On employs dual magnets to attach securely to the latest iPhones. The precise fold design allows for intuitive and flexible use - simply snap it on, stand it up and fold it back into place. A powerful companion to your digital life.
Comfort in 3 Angles
Browsing
Streaming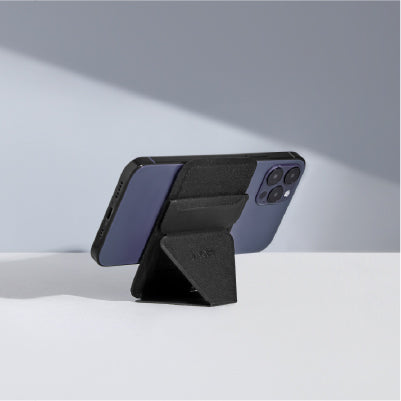 Video conferencing
PRACTICAL AND PORTABLE
Snap, Grab and Go!
The hidden wallet securely holds up to 3 cards such as a credit card, transit card, or driver license, for your everyday carry needs: Unfold to easily access your cards without the need to snap it off your phone.
SMOOTH TO TOUCH
Premium Materials in Classic Colors
The soft vegan leather not only feels smooth to the touch, but is also eco-friendly. At half the cost of most phone wallets, it's the most accessible and ideal way to interact with your phone.
COMBINE WITH MAGNETIC STICKY PAD
Snaps Anywhere
Experience the iPhone hands-free from every corner of your home with MOFT's Wall Sticker Pads which can attach on any surface to transform your phone into an exercise, bath time, or cooking companion.
Word On Us
"Apple's MagSafe wallet now has competition that's cheaper and packs more features" - The Verge
"MOFT rivals Apple's own MagSafe wallet with far more functionality" - AppleInsider "We're finally starting to see some great MagSafe accessories." - GIZMODO
Love From Millions of Global Users