Adaptive To Magnetic Tools
Switch Anytime, Efficient Workflow
As the very first member in MOFT's Snap System for tablets, it snaps on & off the tablet via the Snap Tablet Sticker. After a frenzy of typing, take some time to e-read in a switch. You deserve it!
6 Viewing Modes In 2 Orientations
Create & Entertain As You Wish
Through engineered folding design, versatile viewing modes are easily accessed, making for a nimble companion on a daily basis.
Incredibly Thin When Folded
Takes Up No Space
The stand folds flat like a paper when not in use, turning into an invisible daily companion. Easily slip in a bookshelf or your everyday carry bag.
SMALL BUT POWERFUL
It's a Wallet, Holder and Stand
Building on the breakthrough innovation of the popular MOFT X classic phone stand, the new MOFT Snap-On employs dual magnets to attach securely to iPhone 12 series and beyond. The fold-design allows for intuitive and flexible usage - simply snap it on, stand it up and fold it back into place. A powerful new assistant in your digital life.
Comfort in 3 Angles
Browsing
Streaming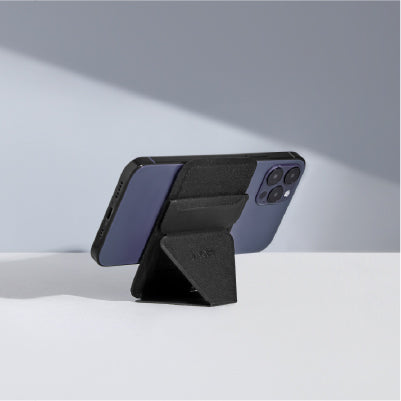 Video conferencing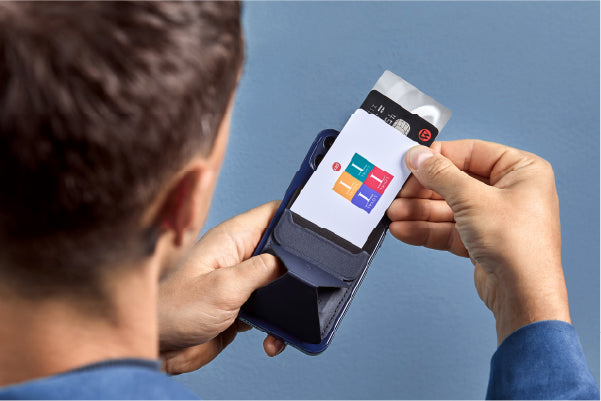 SLIM AND PRACTICAL
Snap, Grab and Go
Holds up to 3 cards for your everyday carry needs: a credit card, transit card, driver license, etc. Securely hide and easily access your cards without the need to snap it off your phone.
Vertical 60° perfect for viewing vertical content
Horizontal 45° ideal for movie-watching
0.2 in thin, 1 oz weight, unfelt when carried
3-card wallet and RFID-protecting
Reusable and residue-free adhesive
Compatible with phone 4.7" or larger.
For iPhone 11 series and iPhone 12 series, please purchase a special glass sticker for compatibility
US Standard Shipping: 5-10 business day delivery. Recently, it may take longer than usual. Due to the current global situation, shipments may experience some delays, but please rest assured your order will still be delivered to you
Shipping Email Notice: We will send you an email with the tracking number once your order has been shipped.
Global Standard Shipping: 8-15 business day delivery. Some countries in Middle East, Southeast Asia and Latin America might take up to 15-25 business days. For orders shipped to Canada, FedEx is recommended, because standard shipping is currently affected more by coronavirus.
DHL Shipping: DHL is experiencing parcel volumes surge due to coronavirus crisis. It might take 7-10 more days before the system shows your order arrives in the destination country.
Does it work with iPhone 11 series or iPhone 12 series?
Yes, please purchase the Special Glass Sticker here for compatibility.
Is Moft X compatible with skins such as those from dbrand and Slickwrap?
Yes, MOFT X phone stand adheres well on 3M skin including dbrand and Slickwrap.
Is Moft X compatible with phone cases made of wood such as Thermopolyurethane (TPU) or Polycarbonate (PC)?
Yes, it sticks to the phone case made of wood portion, TPU and PC.
Which option do I go for if I want to have a stand to support the Nintendo Switch?
The MOFT X phone stand can support the Nintendo Switch.
Does MOFT X phone stand work on the phone with silicone phone case?
No, the MOFT X phone stand does not work on silicone phone case.
What is MOFT X made of?
It's made of vegan leather, fiber glass, metal sheets, magnets and microfiber.
How many times can the stand can be reattached
It can be removed and reattached 5-6 times after which the adhesive may start to wear off.